The National Parking Association has recognized the Parking Design Group with the 2013 Innovative Sustainability Project of the Year for our work with Brookfield Office Properties in Los Angeles, California. The $30 million renovation and redesign of their FIGAT7TH office and retail complex has been recognized by the NPA for the effective steps taken to reduce reduce environmental impacts while increasing user safety,security, and convenience.

"We are honored to accept this very prestigious award from the National Parking Association. There were many very significant and deserving projects nominated, and we are proud that the NPA has chosen FIGAT7TH and for affirming the investment and trust that Brookfield Office Properties placed in us" says Warren Vander Helm, Managing Partner of Parking Design Group.

This project exemplifies what can be done when a "team approach" is used to deal with a difficult task on a very tight deadline. It also shows that "environmental sustainability" does not have to mean "over priced" or that customers or the public have to be inconvenienced.

"We thank Brookfield Office Properties for their concern and commitment to the sustainability of their facility, the safety of customers and tenants,and for sharing with us the vision that as a team, we could
achieve great success."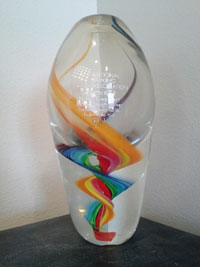 Walk of the Stars Project
Walk of the Stars Project
Dodger Stadium Project
Art Center College of Design Project
LA Metro Division 13 Bus Maintenance and Parking Project
Long Beach Airport Parking Project
Brookfield Place Project
UCLA Student Married Housing Parking Project
Innovative Corp. Center Parking Project
UCSD Campus Project
Commercial - Retail
- FIGAT7TH, Los Angeles -- Innovative Sustainability Award Winner -- NPA
- The Shops at Wailea, 3750 Wailea Alanui Drive, Wailea, Hawaii
- Brookfield Place, Lower Manhattan, NY
- Multiple Ralph's Locations, Los Angeles, CA
- Vine Street Parking Structure, Hollywood, CA
- Fontanar Mall -- Bogota, Columbia
- Cascadas Mall -- Tegucigalpa, Honduras
- Allen Center Garages (6) Remodel Project, Houston, TX
- Oakland Mall -- Guatemala City -- winner of Latin American Shopping Center Awards Gold Medal in innovation and development design
- Naranjo Mall -- Guatemala City
- Hollywood/ LADOT Parking Structure, Hollywood, CA
- 2nd and Pacific Coast Highway, Long Beach, CA
- San Diego Metro Center, San Diego, CA
- One Bridge Street Parking Structure, Irvington-on-Hudson, NY
- Maple Village, Omaha, NE
- Atlantic Place, Atlanta, GA
- 2001 Ross Avenue, Dallas, TX
- Centro Comercial Miraflores Mall, Guatemala City, Guatemala
- Figueroa Central Mixed-Use Development, Los Angeles, CA
- First City Center Parking Structure, Dallas, TX
- Little Tokyo Parking Structure, Los Angeles, CA

Airports
- Long Beach Airport, Long Beach, CA
- San Diego International Airport, San Diego, CA
- Burbank-Glendale-Pasadena Airport, Burbank, CA
- Ontario Airport Parking & Circulation Study, Ontario, CA
- Houston Intercontinental Airport Remote Site, Houston, TX
- Houston Hobby Airport Remote Site, Houston, TX
- Cincinnati Airport Remote Parking, Cincinnati, OH
- Ontario Airport, Ontario, CA
- Phoenix Skyharbor Airport, Phoenix, AZ
- Denver International Airport, Denver, CO

Residential
- Vulcan, Inc Blocks 37, 38 & 48, Seattle, WA
- 413 Fairview, Seattle, WA
- California Fountains Apartments, Santa Ana, CA
- Vine Street Parking Structure, Hollywood, CA
- Hollywood/LADOT Parking Structure, Hollywood, CA
- Upland Senior Community Parking Reduction Study, Upland, CA
- The Spanish View Towers, Las Vegas, NV
- Coral Shores Resort, Cape Coral, FL
- Bovet Place, San Francisco, CA
- Prince Kuhio Hotel, Waikiki, HI
- Historic Lido Building Parking Structure, Los Angeles, CA

Healthcare
- Glendale Adventist Hospital, Glendale, CA
- UCSD Medical Center La Jolla, La Jolla, CA
- Newport Lido Medical Center, Newport, CA
- Abbottsford Regional Healthcare and Cancer Center Parking Study, British Columbia, Canada
- Avera McKennan Hospital & University Health Center, Sioux Falls, SD
- Surrey Memorial Hospital, British Columbia, Canada
- Blue Cross/Blue Shield Parking Structure, Little Rock, AR
- The Women's Hospital of Texas, Houston, TX
- St. Francis Medical Center Study, Monroe, LA
- St. Joseph's Hospital and Medical Center Study, Phoenix, AZ
- Ben Taub Hospital, Houston, TX

Educational
- California State University, Long Beach, CA
- West Coast University, Los Angeles, CA
- Art Center College of Design, Pasadena, CA
- UCSD Parking Study, San Diego, CA
- Pepperdine University Feasibility Study, Malibu, CA
- University of Texas, Austin, TX
- University of Northern Iowa, Cedar Falls, IA

Entertainment
- Los Angeles Music Center, Los Angeles, CA
- Annenberg Cultural Center, Beverly Hills, CA
- Los Angeles County Museum of Art, CA
- Oregon Shakespeare Festival, Ashland, Oregon
- Los Angeles Dodgers – The Next 50, Los Angeles, CA
- American Airlines Arena Parking Layout and Graphics, Miami, FL
- Ralph Wilson (FKA Rich Stadium), Orchard Park, NY
- Wisconsin State Fair Park, Milwaukee, WI
- Austin Center, Austin, TX

Public Sector
- Alameda County Parking Study
- LA County Metropolitan Transit Authority -- Multiple Rail parking sites, onging
- CALTRANS - Expert witness
- Ontario Civic Center Parking Structure, Ontario, CA
- Old Town San Diego Parking Study, San Diego, CA
- El Paso de Robles Parking Management Plan, El Paso de Robles, CA
- Valencia Town Center Parking Study, Valencia, CA
- Calabasas Parking Study, Calabasas, CA
- Los Angeles County Metropolitan Transit Authority Union Division Bus Facility, Los Angeles, CA
- Los Angeles Music Center, Los Angeles, CA
- San Jose Feasibility Study, San Jose, CA
- City of San Bernardino Parking Study, San Bernardino, CA
- Annenberg Cultural Center, Beverly Hills, CA
- Downtown Buffalo Parking Study, Buffalo, NY
- Wyoming State Capitol Parking Structure, Cheyenne, WY