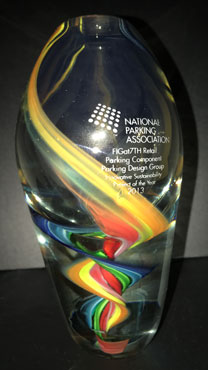 The National Parking Association recognized Parking Design Group with the 2013 Innovative Sustainability Project of the Year for our work with Brookfield Office Properties in Los Angeles, Calif. The $30 million renovation and redesign of their FIGAT7TH office and retail complex has been recognized by the NPA for the effective steps taken to reduce environmental impacts while increasing user safety, security and convenience.
"We are honored to accept this very prestigious award from the National Parking Association," said Warren Vander Helm, Managing Partner of Parking Design Group. "There were many very significant and deserving projects nominated, and we are proud that the NPA has chosen FIGAT7TH and for affirming the investment and trust that Brookfield Office Properties placed in us."
This project exemplifies what can be done when a "team approach" is used to deal with a difficult task on a very tight deadline. It also shows that "environmental sustainability" does not have to mean "overpriced" or that customers or the public have to be inconvenienced.
"We thank Brookfield Office Properties for their concern and commitment to the sustainability of their facility, the safety of customers and tenants and for sharing with us the vision that as a team, we could achieve great success."